25th Anniversary of Pokémon

︎ Agency: Mediacom
︎ Category: Advertising
︎ Status: Completed

It's not everyday you see Pokémon chart #1 on Spotify.

Awards
Cannes: Gold Lion
Cannes: Shortlist (x3)

I worked with the Mediacom Creative Services (CS) Team on this project during the concept exploration stage. The initial idea to connect the 25-year-old brand (Pokémon), 25-year-old artist (Post Malone), and a 25-year-old hit (Only Wanna Be With You) was lead by Marcelo Dzialoszynski and Emiliano Zapata. After Pokémon's approval the exploration stage insued to see how this connection could play out.

More than 10 months later, the final result was an animated virtual concert (video) put on by Post Malone using a full Mo-Cap suit and all. Prior to this final direction we explored creating an interactive virtual festival. This festival would be the ultimate expression of familiarty fans have with the iconic Pokémon brand mixed with being at a full-scale music festival. At the end of the day, Pokémon decided to go with a non-interactive video partly due to time limitations and to our surprise – IP complications. It's very unfortunate but I hope the idea gets to live on one day.

My focus during this lengthy process was to develop ways to gamify the virtual festival. Leverage the love of playing Pokémon games, exploring environments, conquering gyms, capturing unique Pokémon and winning merchandise. The team used Fortnite's Travis Scott concert as an inspiration. I studied the experience Fortnite players had and explored ways to amplify, build-on and extend them to the realm of Pokémon.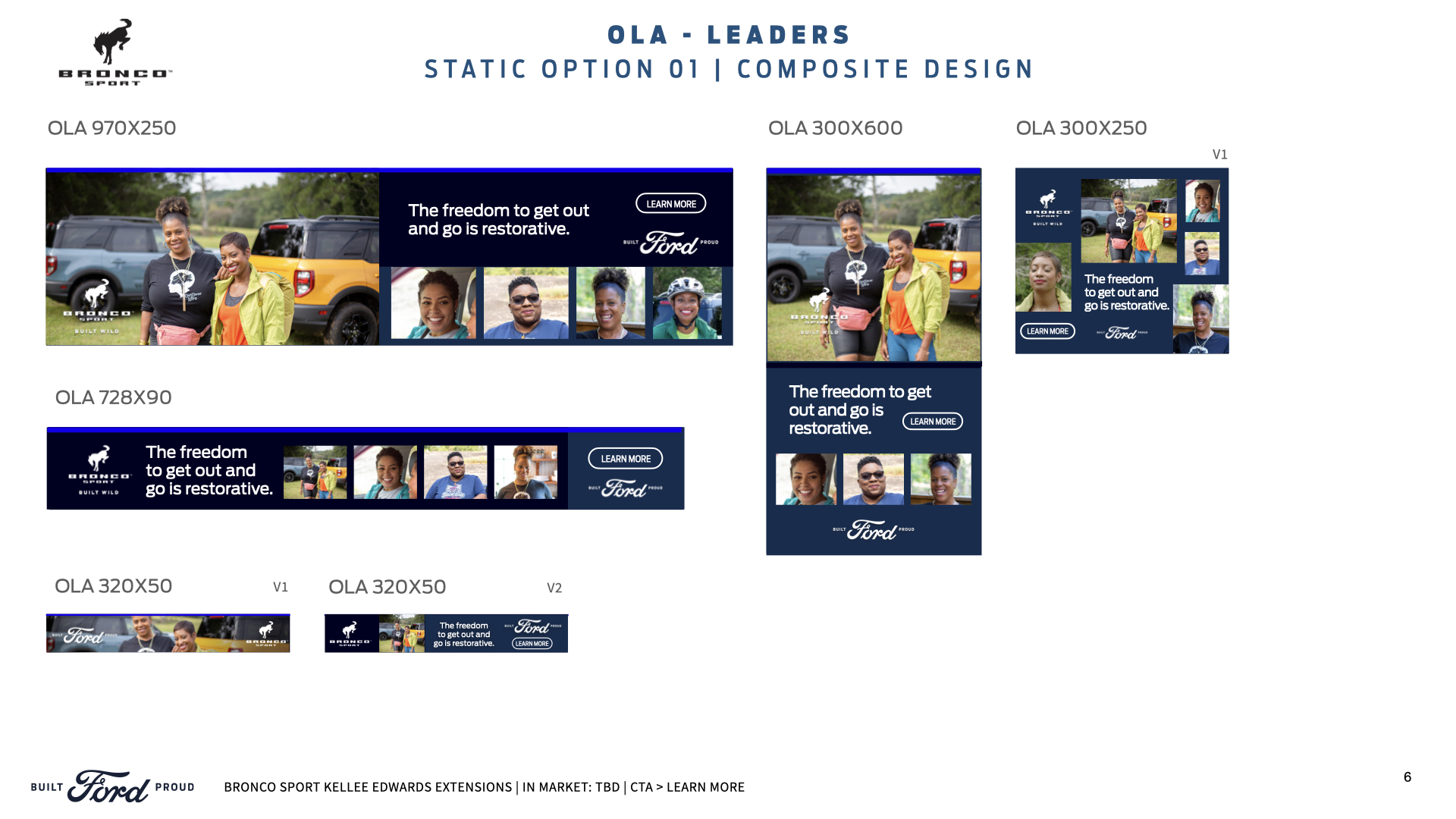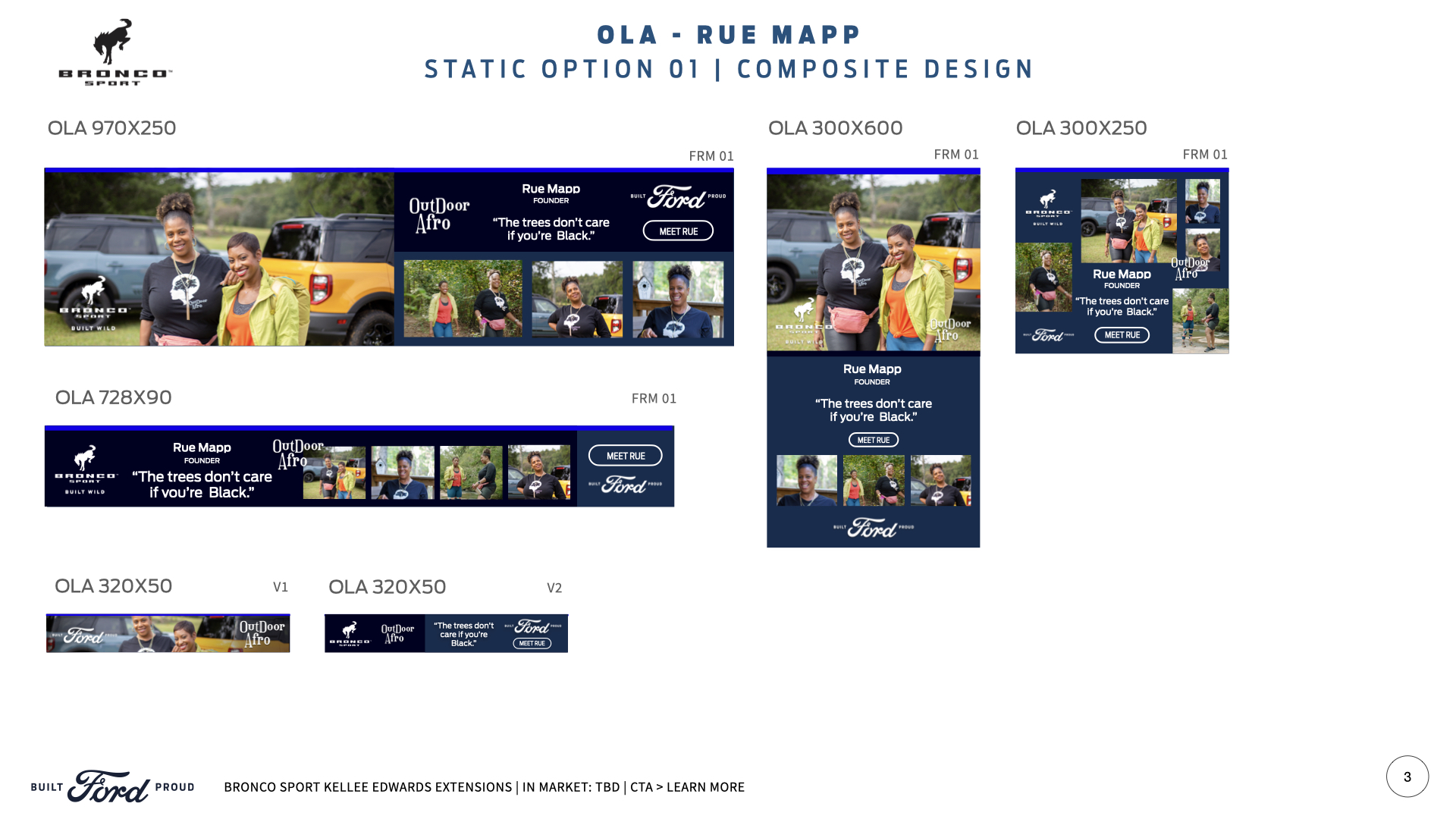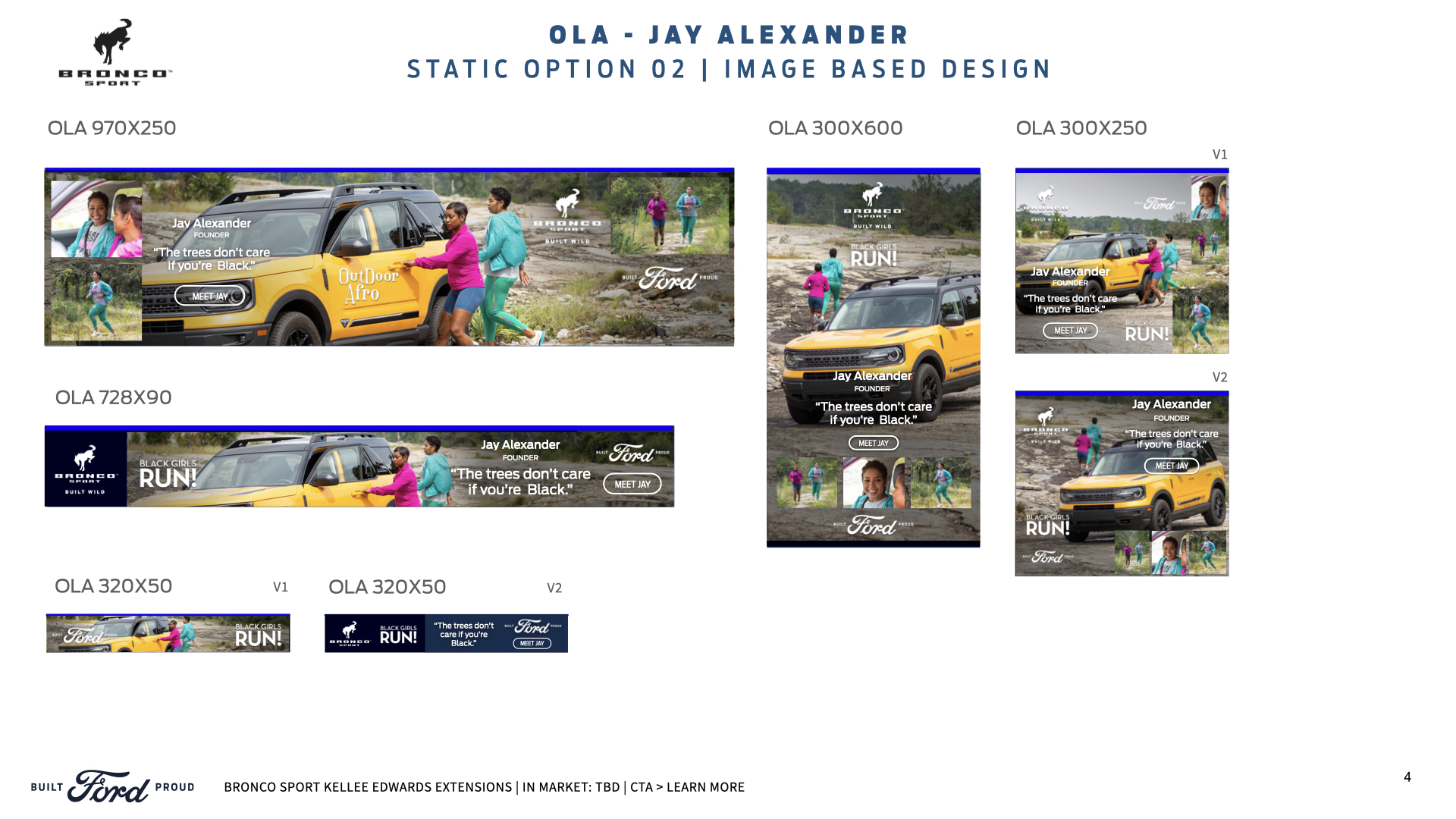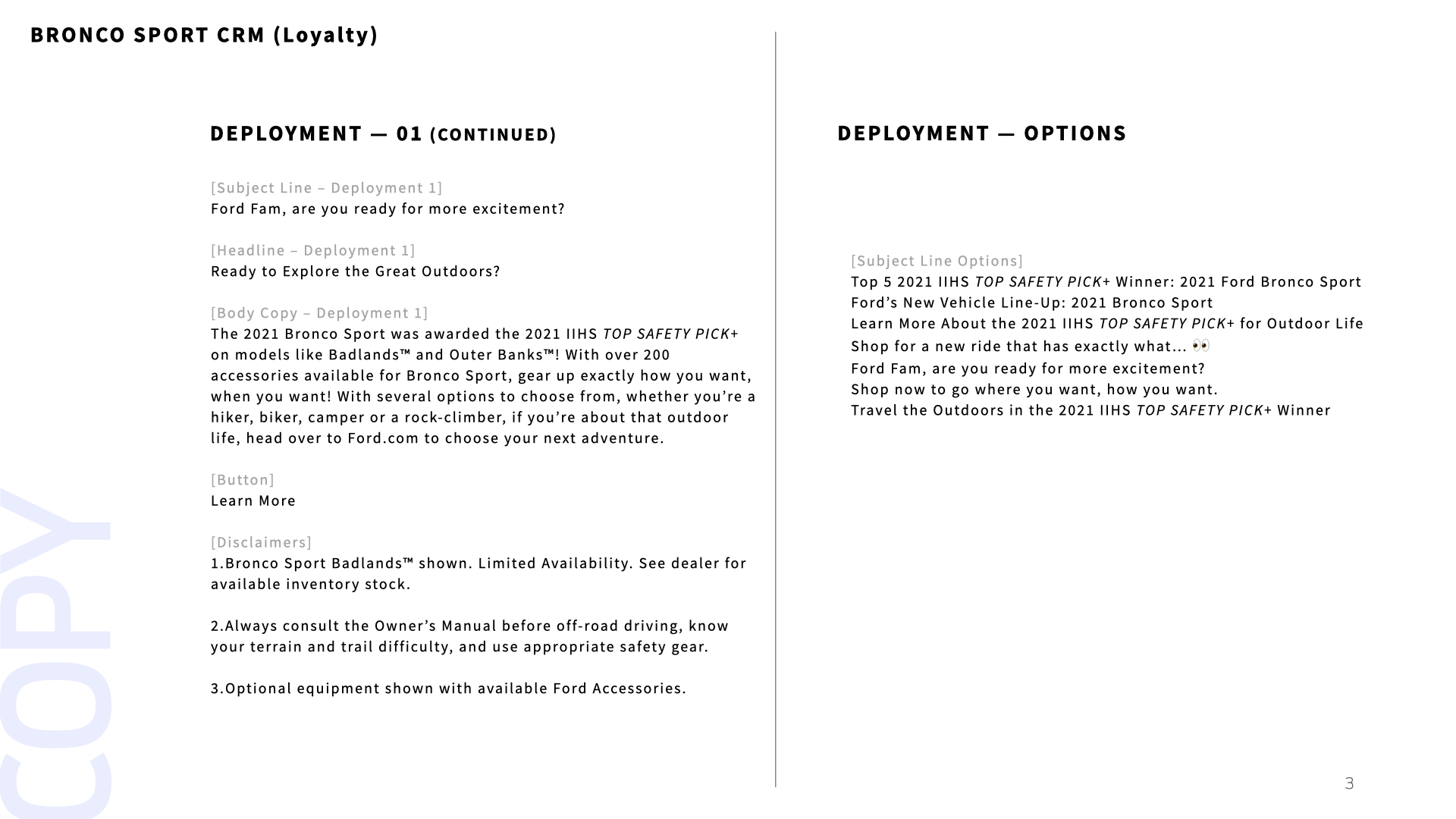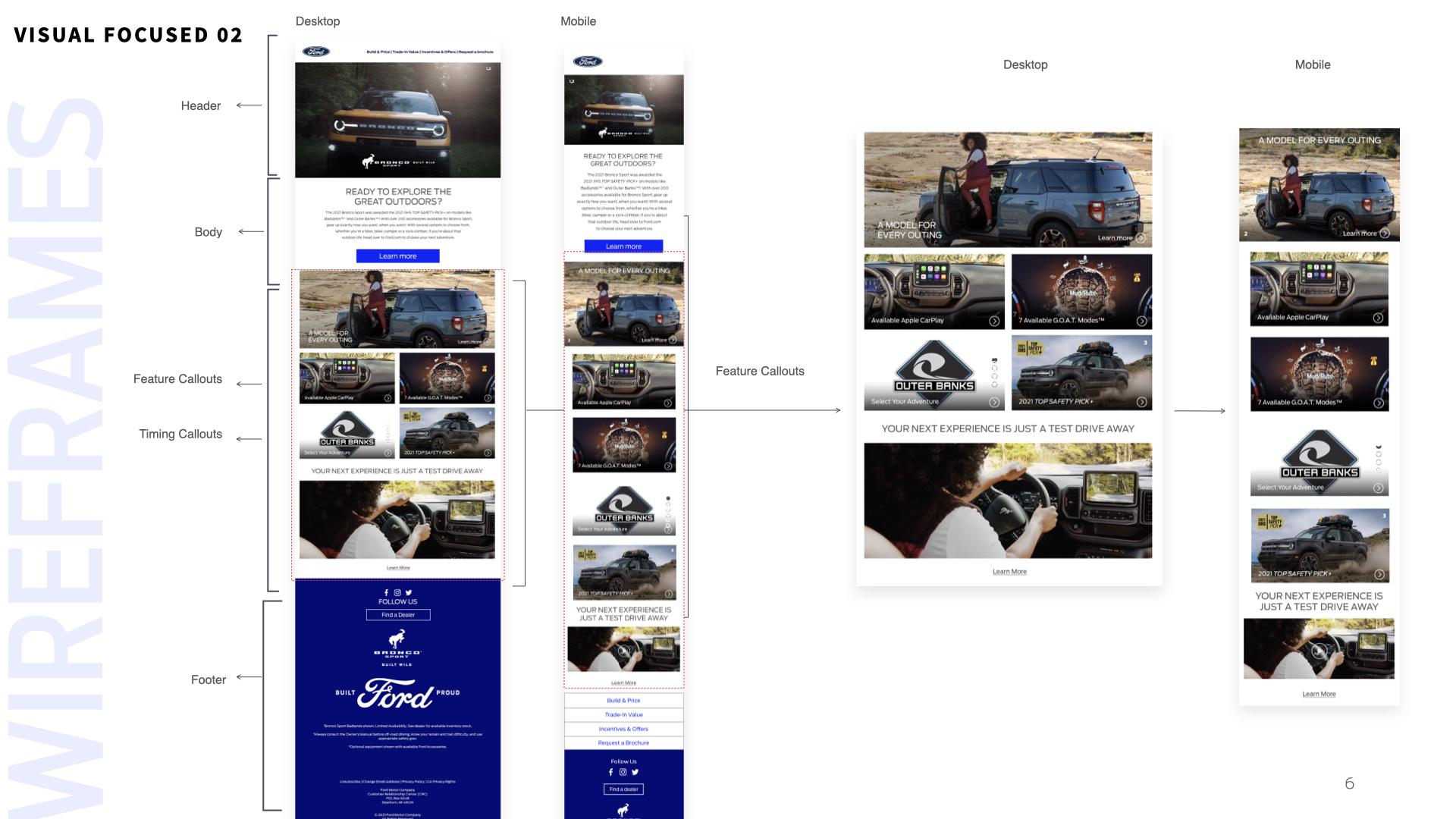 Ford Bronco Sport: We Do
︎ Agency: Uniworld Group (UWG)
︎ Roll: Art Director / Designer
︎ Type: Social Content, Photo Editing, CRM
︎ Medium: Digital
︎ Status: Completed
Ford's 'We Do' campaign challenges the cultural perception of outdoor involvement and enthusiam as it relates to Black women.
During the time of pandemic living, many Black women have doubled down on or discovered a love of the outdoors. Whether it's solo time to talk with nature or a weekend treat with the girls, Black women are relishing the joy and freedom of the outdoors and we showed that the Bronco Sport the vehicle to get them there.
The 'We Do' campaign appeared across all digital and social channels, with TV, radio and print activations. It featured members of Black American outdoor organizations including: Outdoor Afro, Black Girls Do Bike and Black Girls Run.
By Ford:
Staying true to the DNA of the first-generation Bronco – designed by a team that included
McKinley Thompson, Jr.
, the first African American automotive designer to work at Ford – the all-new Bronco Sport SUV pays it forward with modern, heritage-inspired style, available agile off-road architecture and G.O.A.T. Modes™ to go over any type of terrain.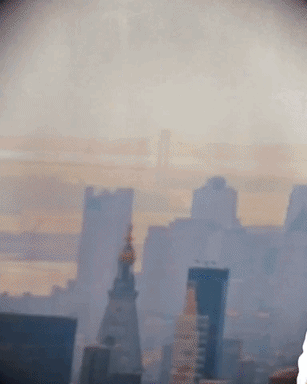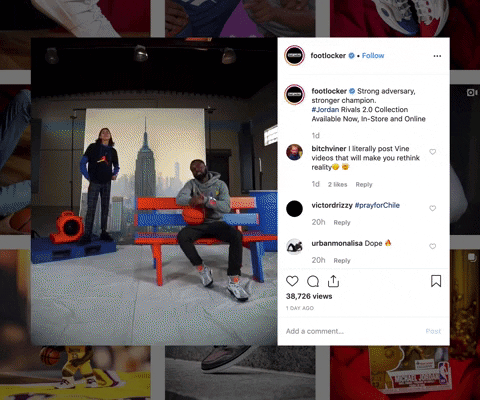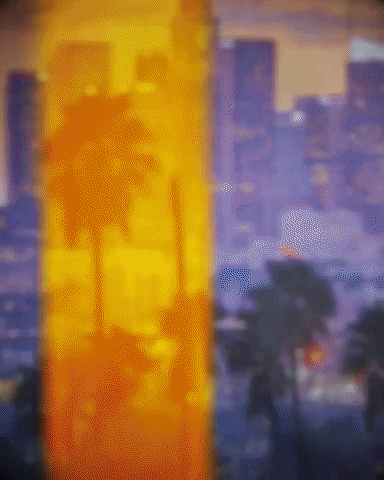 Jordan

︎ Agency: The Times
︎ Type: Advertising
︎ Status: Completed

Jordan Rivals


Footlocker worked with Jordan on an exclusive line of clothing and shoes called
Jordan Rivals.
Footlocker asked The Times to create a campaign that'd live on different social channels.
I worked on project planning, organizing and sourcing materials, and worked with set design. I was in charge of asset management and did file running during the shoots. I conducted live editing to get the work out in a timely fashion.
Illustrated the graphic outlines for New York, Los Angeles, and Detroit. Created the social videos and edited the photography for the social campaign.
(For Footlocker and Footaction)
Footlocker

︎ Agency: The Times
︎ Category: Advertising
︎ Status: Completed

Evolution of The Swoosh

Footlocker worked with Nike on an exclusive line of clothing and shoes called Evolution of The Swoosh. Footlocker asked The Times to create a campaign that'd live on social channels and in store.

I edited social videos, photography and had a hand in the process of research and planning for the project.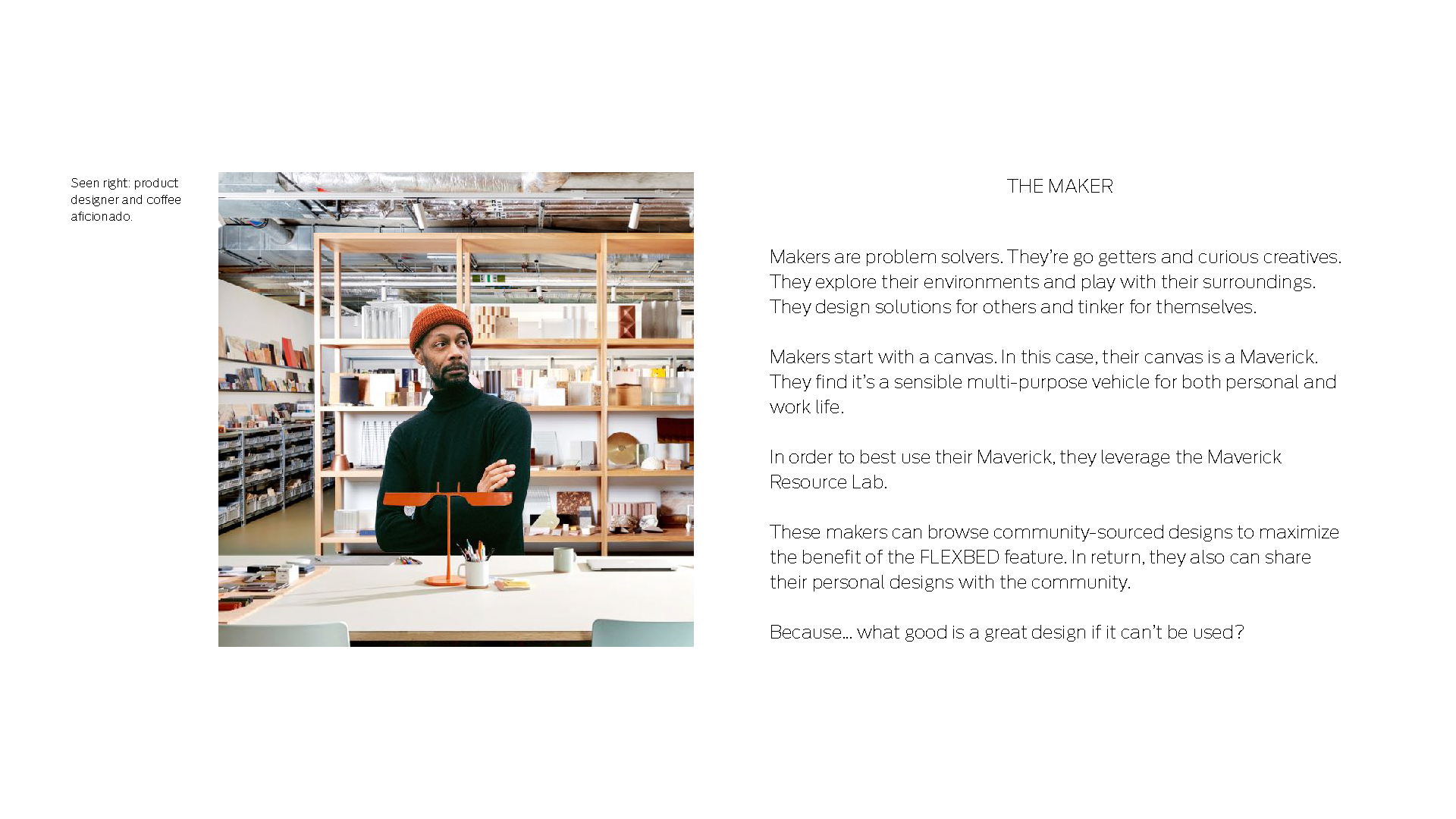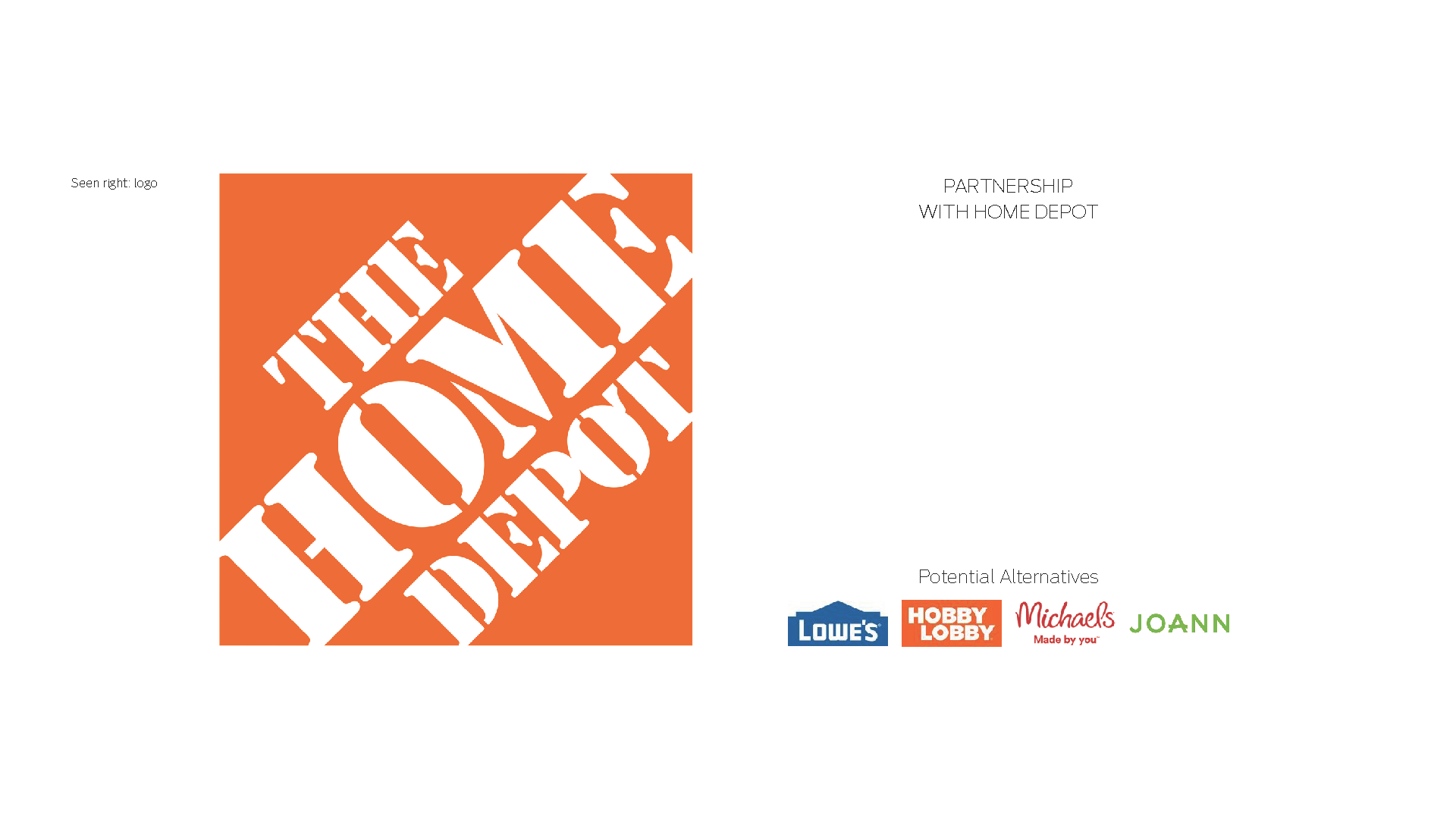 Ford Maverick

︎ Agency: Uniworld Group (UWG)
︎ Roll: Art Director / Designer
︎ Type: Campaign Ideation /Service Concept
︎ Medium: Digital
︎ Status: Moved-on

Origin: This began as client ask to advertise the Maverick to the urban / city customer. Trucks are the most popular vehicle in the United States but are not the first consideration from those that call the city their home. Here are 3 concepts to showcase the utility of the Ford Maverick and to break of barrier of what a "truck person" looks like.


Maker to Maker: a celebration of ingenuity



The Maverick Resource Lab:



#TrucksWithMaverick



Work in Progress 🚧

︎ Type: Advertising
︎ Period: Pending
︎ Medium: ?
︎ Status: ?

I'm in the process of gathering approved and published work to add to this portfolio.


Client List:
AirBnb, American Airlines, AT&T, Cars(dot)com, Chase Bank, Circle K, Coca-Cola, Cole Haan, Cox Communications, Cricket, DJ's Cast Iron Burgers, Doritos, Duracel, Ford, Hard Rock, ICSC, J.P. Graziano, Kaiser Permanente, Manuka Honey, Meat District, Playstation, Ring, Scope, Shark Ninja, SK-II, T-Mobile, The Fenway, The Home Depot, The 'Quin House, Uber Eats, Universal Studios, White Claw